V.A.

Swing In The Films Of Woody Allen
New
Sold Out
¥2,970

(税込)
NEW CONTINENT / NEW-101033
[180g重量盤LP]
Issue:

EU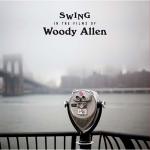 ウッディ・アレンが映画で使用したジャズ名曲13曲を収録したサントラが、180g重量盤LPとして登場!
脚本家、監督、俳優、作家、劇作家、コメディアン、ジャズミュージシャン(クラリネット)でもあるウッディ・アレンは映画のサウンドトラックに歴史的な録音物を使用することで、ジャズの遺産を次世代に伝えるという重要な役割を果たした。
本作は、アレンが映画11作品で使用した13曲を収録。
Side A
1. Si Tu Vois Ma More (Sidney Bechet) 3:15(From Midnight In Paris)
2. Spring Will Be A Little Late This Year (Frank Loesser) 5:43(From Whatever Works)
3. Lil' Darlin' (Neal Hefti) 4:50(From Mighty Aphrodite)
4. My Ideal (Leo Robin-Newell Chase-Richard A. Whiting) 7:16(From September)
5. If I Had You (Jimmy Campbell-Reginald Connelly-Ted Shapiro) 3:03(From You Will Meet A Tall Dark Stranger)
6. Sleepy Lagoon (Eric Coates-Jack Lawrence) 3:04(From Annie Hall)
Side B:
1. I Got Rhythm (George & Ira Gershwin) 3:30(From Celebrity)
2. Liebestraum #3 (Franz Liszt) 3:19(From Sweet And Lowdown)
3. I've Heard That Song Before (Jule Styne-Sammy Cahn) 2:57(From Hannah And Her Sisters)
4. Manhattan (Richard Rodgers-Lorenz Hart) 3:00(From Mighty Aphrodite)
5. I Can't Get Started (Vernon Duke-Ira Gershwin) 3:40(From Anything Else)
6. The Way You Look Tonight (Jerome Kern-Dorothy Fields) 3:47(From Alice)
7. Take Five (Paul Desmond) 5:26(From Mighty Aphrodite)
メンバー:
A1: Sidney Bechet (soprano sax) With Claude Luter (clarinet) & His Orchestra. Paris, France, January 18, 1952.
A2: Red Garland Trio: Red Garland (piano), Paul Chambers (bass), Art Taylor (drums). Hackensack, N.J., November 27, 1958.
A3: Count Basie (piano) And His Orchestra. New York, October 21, 1957.
A4: Art Tatum (piano), Ben Webster (tenor sax), Red Callender (bass) Bill Douglass (drums). Los Angeles, Ca, September 11, 1956.
A5: Benny Goodman (clarinet), With Lou Mcgarity (tb), Mel Powell (p), Tom Morgan (g), Sid Weiss (b), Ralph Collier (d). New York, October 28, 1941.
A6: Tommy Dorsey (trombone, conductor) & His Orchestra. New York, June 17, 1942.
B1: Teddy Wilson (piano), Gene Ramey (bass), Jo Jones (drums). Chicago, March 5, 1956.
B2: Django Reinhardt (guitar soloist), Stephane Grappelli (violin), Pierre Ferret, Marcel Bianchi (g), Louis Vola (b). Paris, France, April 26, 1937.
B3: Harry James (trumpet) & His Orchestra, Featuring Helen Forrest (vocals). Hollywood, July 20, 1955.
B4: Carmen Cavallaro (piano), Plus Unknown Bass & Drums. Hollywood, 1957.
B5: Lester Young (tenor sax), Oscar Peterson (piano), Barney Kessel (g), Ray Brown (b), J.C. Heard (d). New York, November 28, 1952.
B6: Erroll Garner (piano), Leonard Gaskin (bass), Charlie Smith (drums). New York, July 20, 1949.
B7: Paul Desmond (alto sax), Dave Brubeck (piano), Eugene Wright (bass), Joe Morello (drums). New York, July 1, 1959.